Brownell Talbot offers every student athlete the opportunity to compete.
Our youngest students develop their abilities in a variety of games and learn the importance of good sportsmanship. In seventh grade, students begin to participate in interscholastic sports, building the physical, emotional, and cognitive skills that enable them to become effective team players. By the time they reach Upper School, they are a force in the many competitive varsity and junior varsity sports that BT offers.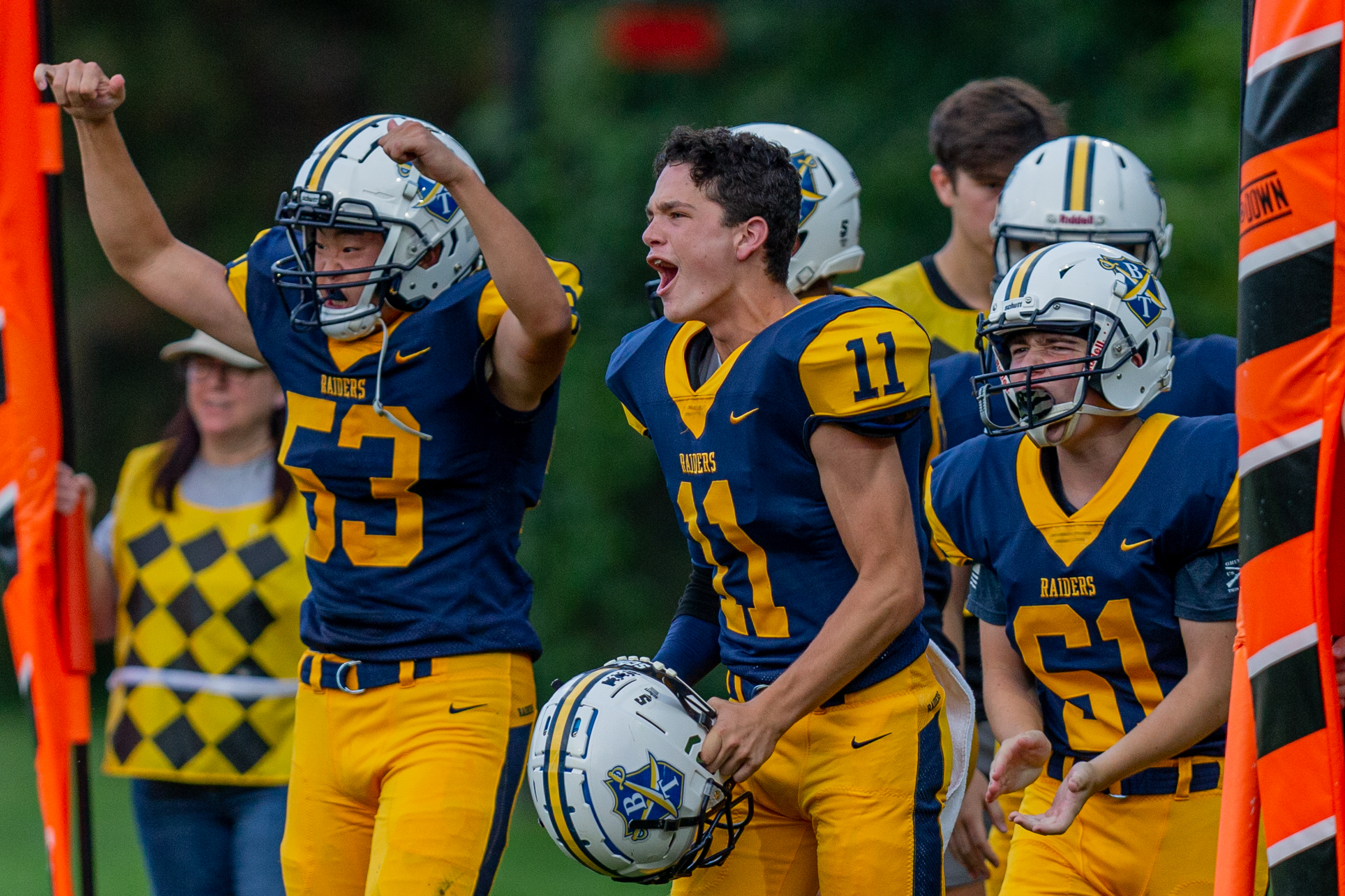 Upper School
NSAA Athletics
We are a close community in which coaches and teachers know one another and know the commitments our students have made in their various athletics and activities. BT encourages students to explore all interests in a supportive environment, empowering them to play multiple sports while also being involved in other aspects of school life.
Highlights
17 NSAA varsity sports teams, 12 recognized activities.
Frontier Conference Championships 45 times and 19 runner-up finishes since 2010.
Freshmen athletes often get playing time on varsity teams.
60% of Upper School athletes participate in 3 or more sports and activities.
Full-time strength and conditioning coach.
State-of-the-art facilities, including Theisen Pool, cardio room, and fitness center.
| Fall | Winter | Spring |
| --- | --- | --- |
| Boys Tennis (Concordia High School Co-op) | Basketball | Baseball (Concordia High School Co-op) |
| Cheer | Cheer | Boys Golf |
| Cross Country | Powerlifting | Boys Soccer (Roncalli High School Co-op) |
| Football | Swimming | Cheer |
| Girls Golf | | Girls Soccer (Concordia High School Co-op) |
| Softball (Mercy High School Co-op) | | Girls Tennis (Concordia High School Co-op) |
| Swimming | | Swimming |
| Volleyball | | Track and Field |
Nebraska residents: To be eligible for NSAA fall sports, you must be enrolled to attend Brownell Talbot by May 1.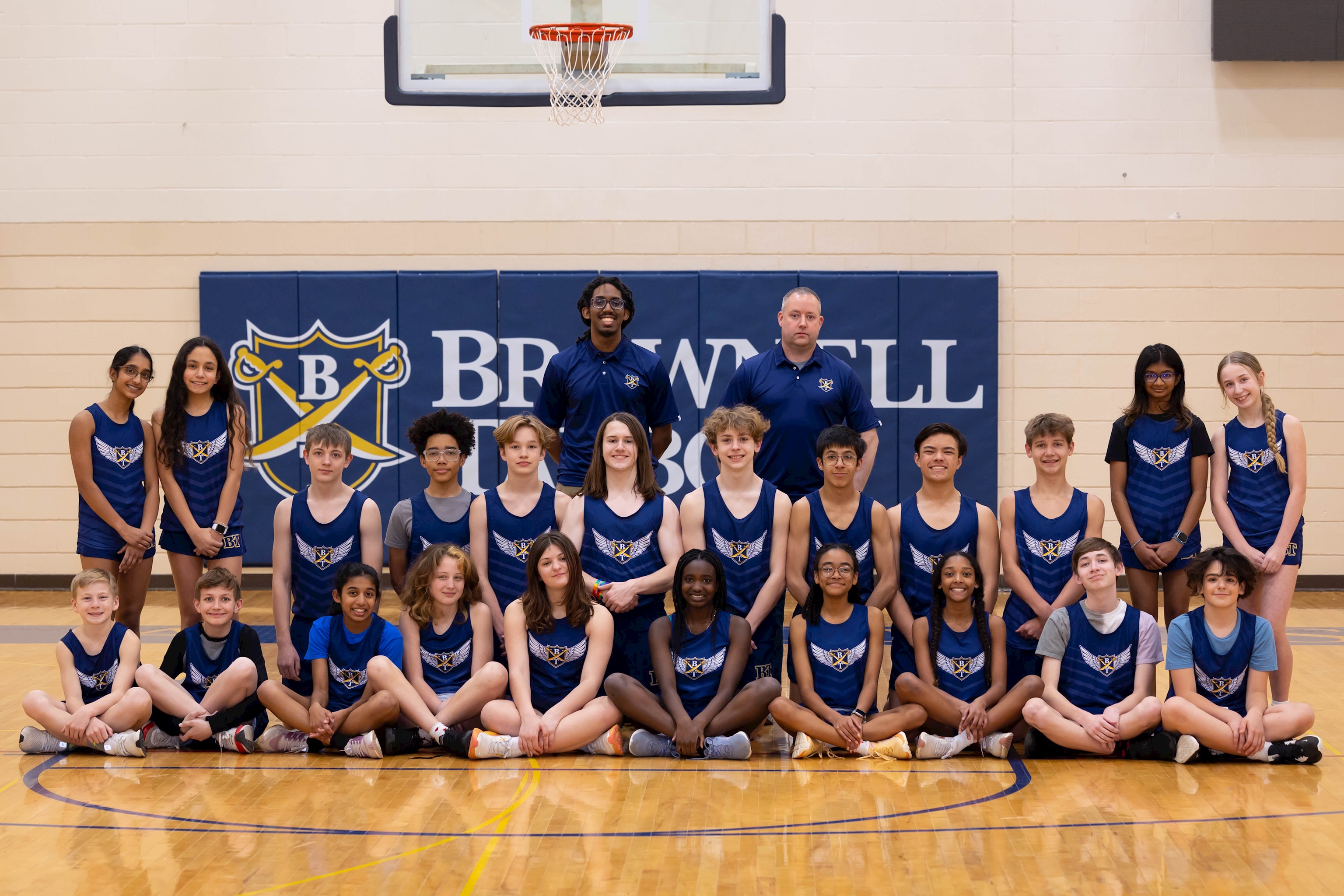 Grades 7-8
Interscholastic Athletics
Starting in seventh grade, teams are formed for official interscholastic competition. Students are encouraged to go out for any athletic activity they are interested in, regardless of previous experience. This affords students several opportunities to explore interests and:
Promote physical, social, and emotional growth.
Prioritize physical fitness and make it a way of life.
Foster good sportsmanship and character.
Experience a feeling of self-accomplishment.
Instill fundamental individual and team skills.
Each student will experience meaningful participation in competitive situations. "Meaningful participation" does not mean equal playing time, but it does mean providing students with the opportunity to further their learning and development in a game situation.
| Fall | Winter | Spring |
| --- | --- | --- |
| Football | Basketball | Baseball |
| Swimming | Soccer | Softball |
| Volleyball | Swimming | Swimming |
| | | Track & Field |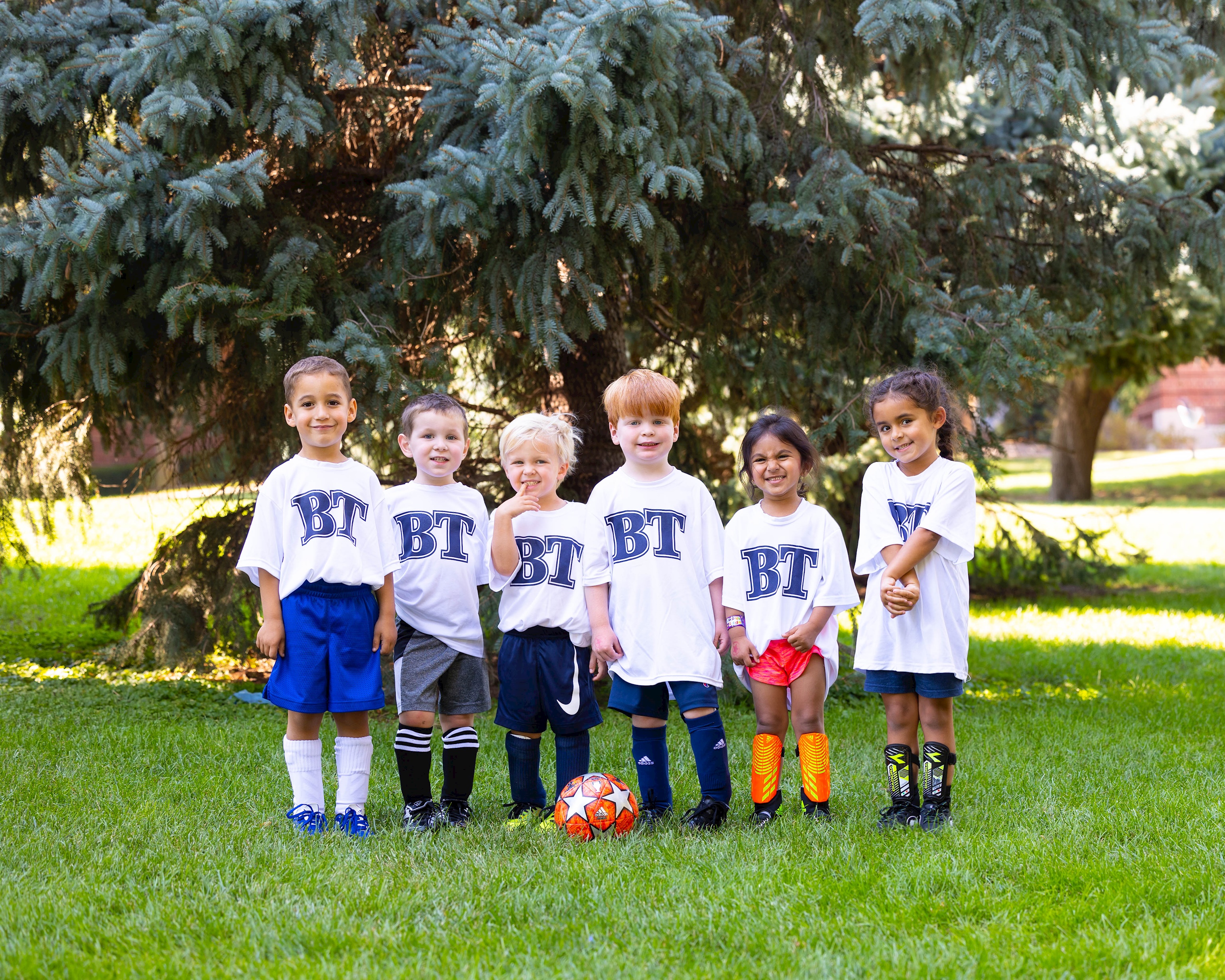 Early Years - Grade 6
Youth Sports
Students in Early Years - grade 6 compete through BTYSO, BT's youth sports program. BTYSO teams are focused on three important principles: fun, personal development, and skill development.
Other benefits of participating in BTYSO include:
Opportunities to learn to play team sports in a way that builds skill, confidence, and good sportsmanship.
The development of every player, regardless of ability, in a fun environment.
Life lessons in good sportsmanship and having a positive attitude.
| Fall | Winter | Spring |
| --- | --- | --- |
| Flag Football | Basketball | Baseball |
| Soccer | Soccer | Soccer |
| Swimming | Swimming | Softball |
| Volleyball | | Swimming |
Youth sports are managed through BT Beyond, the school's auxiliary program. BT Beyond is your child's passport to extracurricular and academic opportunities outside of the traditional school day that inspire new passions and build on their knowledge. Register for youth sports, extended care, enrichment programs, seasonal camps, swimming, and for-credit summer courses through the school's auxiliary program, BT Beyond.
BT Aquatics
Brownell Talbot has a long tradition of being somewhat of a swimmers' school. A unique feature of our PE curriculum is a swimming requirement that begins in kindergarten. Theisen Pool is known in the swim community as a coveted and well-kept facility. So it's not surprising that BT's swim programs flourish. Under the leadership of Coach Jimmy Parmenter, BT offers swim programs for all ages and ability levels.
From those just learning to swim to top high school athletes looking to grow in their competitiveness, there is a place for everyone at BT Aquatics.
Offerings
BT Swim School - private swim, stroke, and dive lessons for all ages.
BT Aquatic Club USA Team - year-round club team open to swimmers in kindergarten through high school. The team recently won the 2023 Midwestern Short Course Championship - Small Team Division!
BTCMR Varsity Swim and Dive Team - Brownell Talbot is the host school for this co-op team that includes Concordia, Mercy, and Roncalli high schools. Varsity swimming and diving are winter sports, with the season running from November to February.
BT Masters Team - year-round team for adults 18 years of age or older. Swimmers must be able to, at a minimum, swim four lengths of the pool. Tri-athletes welcome. Competitions and meets are available but are not required.